Long Beach Island (known as LBI by locals), is located on the Atlantic coast of New Jersey 24 miles north of Atlantic City. This beautiful barrier island is home to about 20,000 but welcomes four times as many during the warmer months, and for good reason. Featuring 18 miles of beaches, Long Beach Island is a beach-lovers paradise. In addition to the beach life, you will discover a variety of things to see and do, from fishing and boating to shopping and dining, and a visit to our beloved Barnegat Lighthouse. LBI will not disappoint but keep you coming back for more year after year.
Beaches
LBI boasts some of the finest beaches on the East Coast in towns such as: Barnegat Light, Beach Haven, Harvey Cedars, Long Beach Township, Holgate, Ship Bottom, and Surf City. For instance, the beaches in Barnegat Light, where our Sand Castle Bed & Breakfast is located, are beautiful, peaceful, spacious, and feature high sand dunes and walking trails. Here you are sure to enjoy plenty of sun, sand, and sea.
Restaurants
From delicious delis and diners to remarkable restaurants and taverns, dining on LBI is sure to satisfy every appetite. In fact, two of our local establishments have hosted the well-known Guy Fieri from Diners, Drive-Ins, and Dives, and the late Anthony Bourdain, who has hosted travel shows like No Reservations and Parts Unknown.  Just recently, Chef Britt Rescigno took on and  "Beat Bobby Flay".  No matter what your palate prefers, you will find plenty of delicious options to choose from, especially fresh seafood, the best in New Jersey. Think clam chowder, crab cakes, oysters, clams, mussels, scallops…
Barnegat Lighthouse & State Park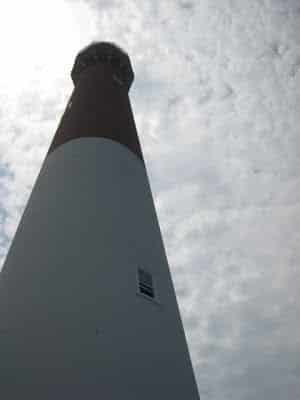 Located in Barnegat Lighthouse State Park, "Old Barney" (as the locals call it) stands proud and tall. Painted half white on the bottom and red on top, this classy historic light house is a highlight of the park and the island. Climb 217 steps to the lightkeeper's catwalk to enjoy breathtaking views of the island, the Atlantic Ocean, and the Barnegat Bay and Inlet. The surrounding 32-acre state park offers a nature trail, an inlet walkway and a beach for walking, as well as ample space to enjoy birdwatching, fishing, and picnicking.
Fishing & Boating
With 18 miles of shoreline, opportunities to fish and boat are plentiful, as you will see by the number of marinas on the Island. Local marinas offer boat excursions and rentals, bait and tackle, surf shops and surf lessons, charters, and more.
Shopping
Shopping on LBI is a real treat. Gift shops, boutiques, antiques, surf shops, and more abound. Whether you're looking for something to wear, beach gear, a gift for a loved one, or something to decorate your home, you are sure to find it here. The popular and original Ron Jon Surf Shop is located in Ship Bottom where you will find everything from beach jewelry and clothing to surfboards, and souvenirs. Historic Viking Village is another popular spot to shop for those hidden island treasures.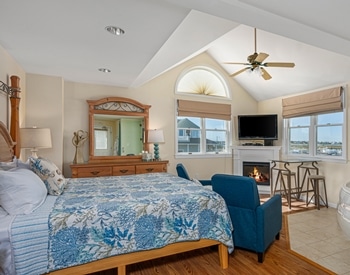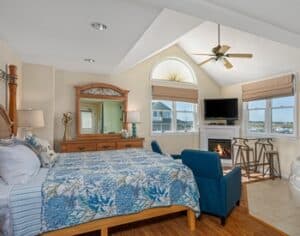 Sand Castle Bed & Breakfast
Our Sand Castle Bed & Breakfast is located right on the bay in Barnegat Light, only a short walk to the Atlantic beach. Our coastal chic "mini-resort" property is off the beaten path providing a quiet respite so you can wake up to the relaxing sound of the seagulls and watch the morning parade of boats heading out to sea. We offer many luxurious guest amenities, such as our outdoor in-ground swimming pool & fresh air fitness area, private rear courtyard, private entrances to all guest rooms, private baths with Jacuzzi tubs or oversized showers, beautiful bay or poolside views, and private dining tables to enjoy our complimentary award-winning breakfast each morning. That's just to name a few of the wonderful features that keep our guests coming back each year. We warmly invite you to book your stay at the perfect home away from home for your LBI vacation.
Interesting LBI Trivia
• There is only one road connecting New Jersey's mainland to Long Beach Island with a free connecting bridge.
• Long Beach Island has been continuously inhabited since 1690 – that's over 300 years!
• The Barnegat Lighthouse, at 163' tall, is the fourth tallest lighthouse in the country and the second tallest in the State of New Jersey.
• The scallop boat, Lindsay L, that is docked near Viking Village in Barnegat Light, was used in the movie The Perfect Storm.
We'd love to hear from you. Tell us what you love most about Long Beach Island.