Barnegat Lighthouse State Park is a 32-acre park located on Long Beach Island in New Jersey. Created in 1957, the park offers visitors a place to learn maritime history and fish, enjoy aerial views from the lighthouse, birdwatch, fish, picnic, and walk. This beautiful state park is included as a maritime site on the New Jersey Coastal Heritage Trail.
History of Barnegat Lighthouse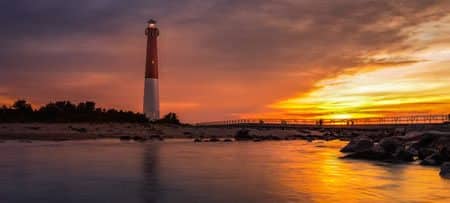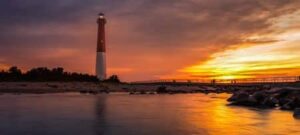 Barnegat Lighthouse, locally known as "Old Barney," is situated on the precarious northern tip of Long Beach Island, NJ, was originally lit in 1859. Coastal vessels heading to and from New York relied heavily on the lighthouse to protect them from the point's dangerous shoals, swift currents, and shifting sandbars. In 1927, the original lens was replaced by a lightship anchored off the coast, but you can still see the original lens at the Barnegat Lighthouse Historical Society's Museum.
Today, the lighthouse shines again with a newer single-beam light that can be seen up to 22 nautical miles away, thanks to Friends of Barnegat Lighthouse, who raised the funds.
Visitors can climb 217 steps to the top of this maritime specimen for a breathtaking panoramic view of Island Beach, Barnegat Bay, and Long Beach Island. Don't worry if you're unable to climb that many steps, as there are four cameras that transmit live images in the nearby Interpretive Center.
Barnegat Lighthouse Interpretive Center
The history of Barnegat Lighthouse is on display in the Park's newly renovated Interpretive Center. Images and stories describe the vision of Lieutenant George G. Meade, what the lighthouse keeper's duties entailed, and how lighthouse technology has evolved. There is also a large panel that explains how the local community and federal, state, and local governments work together to protect the lighthouse from erosion and permanent destruction. You will also learn about the ever-changing coastline and the surrounding natural environment. For the hours of operation, please call the park office at 609-494-2016.
Activities at Barnegat Lighthouse State Park
Maritime Forest Trail – The Park contains one of the last remnants of maritime forest on Long Beach Island. The forest is replete with Black Cherry, Sassafras, Eastern Red Cedar, and American Holly trees, and provides an essential area for migratory birds to rest and feed during their journey. The self-guided loop trail is 1/5 of a mile long – the perfect place to meander along as you take in the sights and sounds of this beautiful forest. Interpretive signs explain the birds and plants you may see during your stroll.
Fishing – If fishing is your game, be sure to bring your gear and head to the bulkhead near the picnic area. You will relish catching striped bass, weakfish, summer flounder, bluefish, tautog, winter flounder, and black sea bass. On the south jetty, a 1,033-foot concrete walkway with handrails provides fishing access for people with disabilities.
Bird Watching – The Park is a wonderful place to observe many species of birds during the spring and fall migrations, as well wintering waterfowl, like red-breasted mergansers, common eiders, and harlequin ducks. Call the park office for more information about their wintertime waterfowl viewing programs at (609) 494-2016.
Picnicking – Pack a picnic basket and enjoy a peaceful meal outdoors amidst the natural maritime landscape. You will find picnic tables and two shelters along the Barnegat Inlet.
Park Programs – Barnegat Lighthouse State Park provides a variety of Interpretive programs for free, most of which begin in the Interpretive Center. Contact the park office for more information.
Additional Park Info
Park Hours
Open daily from 8am to 8pm, May through September.
Interpretive Center Hours
Open daily from 10am to 4pm, Memorial Day weekend through Labor Day.
Lighthouse Hours – Interior currently closed to visitors.
Scheduled to reopen this Spring 2023
Sand Castle Bed & Breakfast on Long Beach Island, is located just minutes from Barnegat Lighthouse State Park. Our bay-front accommodations provide private dining tables, a delicious homemade breakfast each morning, several cozy common areas, stunning views, personalized service, and much more.