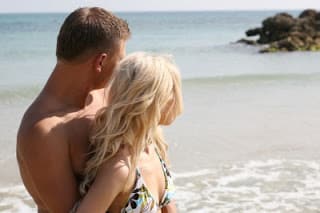 Image courtesy of imagerymagestic/FreeDigitalPhotos.net
On June 15th, lifeguards return to their summer posts at Long Beach Island but it's our guests at
Sand Castle B&B
in Barnegat Light that will be ready to make a splash, thanks to our new 'Life's a Beach' kit.
While beach-goers will need a $5 badge to access the beach…at
Sand Castle
we've got it covered. We like to go above and beyond for our guests, and this time that includes beach gear. Why would you want to lug all your stuff on vacation? Just stay here.
The Life's a Beach kit includes:
Delicious and filling pre-beach breakfast
Beach badge
Beach chair
Beach umbrella
Beach towels
Beach
badges cost $5 per day and are required from June 15 to Labor Day. There is a
$1 surcharge for badges purchased on the beach; children 11 and younger are
admitted for free. Although
Sand Castle
guests tend to walk the
two-blocks to the
beach
, transportation to guarded beaches is also free for badge holders
via a beach tram, which stops at all guarded beaches between Fourth and Ninth
Streets most of the day.
The beach, popular among our guests. It's dotted with restaurants and
stores. It also features a lighthouse, volleyball nets,
basketball courts, tennis courts and a playground.
Hope to see you soon… PS Bring flippers!
var gaJsHost = (("https:" == document.location.protocol) ? "https://ssl." : "http://www.");document.write(unescape("%3Cscript src='" + gaJsHost + "google-analytics.com/ga.js' type='text/javascript'%3E%3C/script%3E"));try {var pageTracker = _gat._getTracker("UA-8736868-1");pageTracker._trackPageview();} catch(err) {}