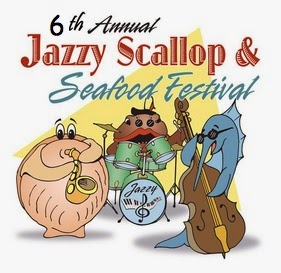 The countdown to the Annual Jazzy Scallop & Seafood Festival is underway!
Later this month (on Saturday, June 28th) from
2:30-5 pm the
Historic
Viking Village
Commercial Fishing Dock in Barnegat Light will
be full of local restaurants cooking up their favorite seafood dishes.
Festival-goers will have plenty to sample. There will also be live jazz music
and self-guided dock tours.
Tickets cost $30 at the door; $25 in advance. And may
be purchased at:
The Chamber of Commerce
Ship Bottom
How You Brewin'?
Barnegat Light & Surf City
Off the Hook
The Seawife
Viking Outfitters
Wink – in Barnegat Light & Surf city
Elks Lodge in Manahawkin
The festival, now in its sixth year, is one of the most popular on Barnegat
Light. Make sure to
reserve your room at the Sand Castle B&B
EARLY! Then
arrive with plenty of time to unwind and be close enough to walk back after
festivities for lounging in the pool or hot tub under the stars.
Look forward to seeing you,
Nancy Gallimore, Innkeeper
Sand Castle Bed and Breakfast
var gaJsHost = (("https:" == document.location.protocol) ? "https://ssl." : "http://www.");document.write(unescape("%3Cscript src='" + gaJsHost + "google-analytics.com/ga.js' type='text/javascript'%3E%3C/script%3E"));try {var pageTracker = _gat._getTracker("UA-8736868-1");pageTracker._trackPageview();} catch(err) {}