The Sand Castle Bed & Breakfast in Barnegat Light is now helping
couples say 'I do' in an intimate rooftop elopement ceremony at sunset.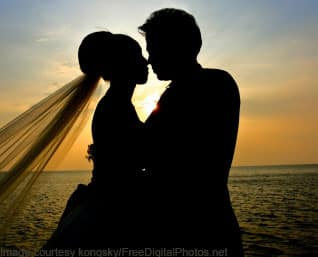 We cater to couples who want to get away for a truly romantic
experience. So, what could be more romantic than a private, breathtaking, ceremony by the sea as
the sun sets?
The Sand Castle Bed & Breakfast's new LBI Sunset Elopement
Package is arranged on the inn's private rooftop deck overlooking the sunset and tranquil waters of the bay, as well as the Barnegat
Lighthouse. The package includes the service of a wedding officiant, a witness,
a beautiful bouquet for the bride (or an in-room fresh vase of flowers if
preferred), a disk of photos from your ceremony, a small wedding cake, and
champagne for up to six guests.
This package costs $1195.00 plus the cost of the room or suite (weekends
require a minimum two night stay).
The bride and groom have full access to the (seasonal) outdoor
pool and Jacuzzi, for late night swims under the stars; though beach and sand
dunes are mere steps away. Next morning, a chef-prepared gourmet breakfast
awaits.